Quarantine Canteen Dispatch #2: Taco in a Bag, Plus Q and A with the Greatest Competitive Eater the World has Never Known.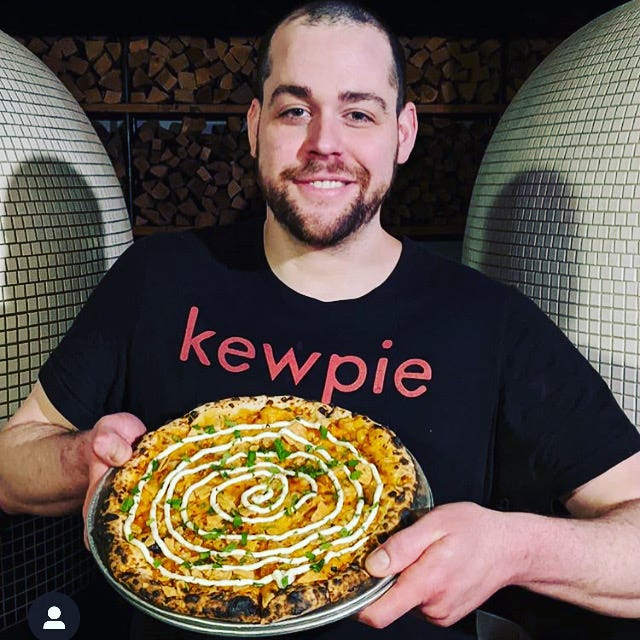 You've probably never heard of Lloyd "Swee' Pea" Daniels or Rafer Alston. Daniels and Alston are two of the greatest playground basketball legends of all time. Alston reportedly had a better crossover than Allen Iverson and was king of New York's legendary Rucker Park games. Daniels was once called the most talented player from New York City since Kareem Abdul-Jabbar. Alston and Daniels did have brief NBA careers, but for various reasons, despite being considered the best of a generation, they never quite fulfilled their legend in the pros, or in public awareness.
I recognize professional competitive eating doesn't have the profile of the NBA, but you've likely heard of Joey "Jaws" Chestnut and Takeru Kobayashi, mustard belt champions of the fourth of July Nathan's Famous hot dog eating contest.
But, what if, like Daniels and Alston, there was a guy who kicked both Chestnut and Kobayashi's asses in eating competitions, but you never heard of him? Chestnut and Kobayashi got their own ESPN 30 for 30 documentary. Surely you would know the name of their vanquishing opponent? What if I told you he runs a restaurant in Chicago?
He does, Lincoln Square's Taco in a Bag, and his name is Patrick "Deep Dish" Bertoletti. Bertoletti never won the super bowl of eating, aka Nathan's Famous, henceforth his lack of name recognition, but he is a competitive eating legend. Check him out on YouTube in the 2011 Nathan's contest, full mohawk ringed by a Jim McMahon-like white terrycloth headband, housing wieners side by side with Chestnut. Bertoletti may have finished second that year, but he won my heart.
Since then I have done a bunch of stories on Bertoletti. My favorite was when a local high-end restaurant offered an "all you can eat" pre-fixe. I wanted to test whether they meant what they said, so I took Bertoletti there for dinner. Bertoletti took down a 20 course pre-fixe meal followed by a 32 oz ribeye and a tray of bread pudding sent to shut him up. Bertoletti would have kept going, but the restaurant ran out of dishes before we told them we had brought in a ringer.
Bertoletti is an avid pizza enthusiast, and a graduate of Kendall College's culinary program. One of his roommates in college was celebrated New York chef Greg Baxtrom of Olmsted and Maison Yaki. Rather than go semi-fine dining like Baxtrom, Bertoletti instead brought semi-fine dining skills to bear on a pedestrian dish, the walking taco, aka a taco in a bag.
If you're from Texas or Iowa, you probably know the original: cut open a bag of Fritos lengthwise at the top, pour in a general shitload of nacho toppings, as if you've just housed an ounce of Purple Kush, and eat with a spork.
Even if you haven't availed yourself of Chicago's new legal weed offerings, COVID-19 has given ample reason to stress eat, and Bertoletti's food is well suited for these times.
Bertoletti's restaurant, like his eating career, has been a little under the radar. Partly, I think that outside of foodies or people who grew up eating Frito pie, it's tough to give a compelling elevator pitch about a food that goes something like "it's like a bunch of soggy stuff and crunchy stuff mixed up in a foil bag".
Bertoletti, who is nice and super self-effacing, would never brag about the lengths he goes to make what on the surface seems like stoner food. And yet, it's worth highlighting, because unlike processed food slopped upon Fritos, 99% of everything at Taco in a Bag is made from scratch, or fiercely curated, like the restaurant's "Unicorn Tears" brand bottled water.
You know the greatest party move of all time? Cut up and deep fry fresh tortillas. Go ahead. You can even serve them with a jar of Sabra hummus or grocery guacamole. That simple fried tortilla chip move will make whatever store-bought thing you're serving taste like the greatest snack ever.
That's what Bertoletti does, fries up chips from fresh local El Milagro tortillas and dusts them with Flavacol. Flavacol is this super fine yellow salt that movie theatres use on popcorn and why theirs is better than anything from your microwave. In this case, the Flavacol makes Bertoletti's chips assault your palate with a killer corn finish.
One of my favorite Taco in a Bag offerings is the Teddy Vejar, chipotle braised chicken thigh with pepper jack cheese, garlic cream, cilantro, and roast pineapple slow-braised in brown sugar and sriracha. It's like a taco al pastor and an enchilada got busy. I also really dig the Mikerib Deluxe, braised pork shoulder (made with smoked mirepoix and a ham powder rub) dripping in burnt end-infused BBQ sauce.
I've chosen to highlight Bertoletti and Taco in a Bag, because, while it's as mom and pop as you can get, Bertoletti takes the kind of pains high end chefs do, even though he isn't going to get the crush of press like a big restaurant group.
Also, Bertoletti's been impacted by the supply chain disruption presented by COVID-19. His signature foil serving bag had been held up for delivery, so he wrote on Facebook, "Due to the disruption … Taco In A Bag is now Taco In A Foam Boat or possibly Taco In A Cup or Taco In A Cylindrical Tube".
Taco in a Bag is located at 4603 N. Lincoln Ave. in Chicago. It is open for pick up and offers delivery through major services like Grubhub.
Side Order - Q and A with Patrick Bertoletti of Taco in a Bag
How has the pandemic and the Illinois restaurant dining room closure impacted you?
We're lucky. We already did a lot of takeout and delivery before this. But, it's (business) definitely down. The biggest thing is there is no more catering.
You know we're not wasting money, but this has really made me think where we can improve and get more efficient in the future. I look at like Honey Butter Fried Chicken and I love those guys so much, but they're employing a lot of people. I feel for them. Here it's like one man shifts.
Still, everyone in this industry is living paycheck to paycheck. This industry is crazy. I mean people I thought were doing gangbusters might not make it.
The [Illinois dining room closure] was the right thing though, unless we want to be walking around in hazmat suits.
How has the pandemic impacted you personally, or are you doing anything different at home because of it?
I'm pretty much a recluse. I don't do anything out of work, so this isn't a big stretch for me. But, in the restaurant, washing your hands regularly, this is all stuff we should be doing anyway.
What's the bestseller at Taco in a Bag?
Cheeseburger nachos. People sometimes have a hard time understanding what we do, even if you tell them it's basically homemade chips with meat toppings. If you tell them it tastes like a cheeseburger though, they get it.
What do you think about the delivery services taking a cut of your sales during this time?
Some have shown support for sure, I won't name names, but some are doing more than others. No matter what, you have to be on those platforms. The ones that take the most, it's a little tougher because food margins are so thin. Still, the world is digital. I don't want to call a restaurant. I know I'm using the apps personally.
It also nice that you can outsource the delivery, so it's hard to say what the right number or cut is, but 30% [commission] might be way too much. I mean I'd like to hire my own drivers. You like to control it. You don't know if the guys from the service are stealing fries out of your McDonald's order, and I'm not saying that's happening, but it would be nice to control who is delivering your food.
Do you think anyone will ever beat Joey Chestnut at hot dog eating?
No, unless something crazy happens, I can't see it happening
What's your greatest competitive eating victory?
275 pickled jalapenos in 8 minutes. Sonya Thomas [The Black Widow] was second and she was 125 behind me.